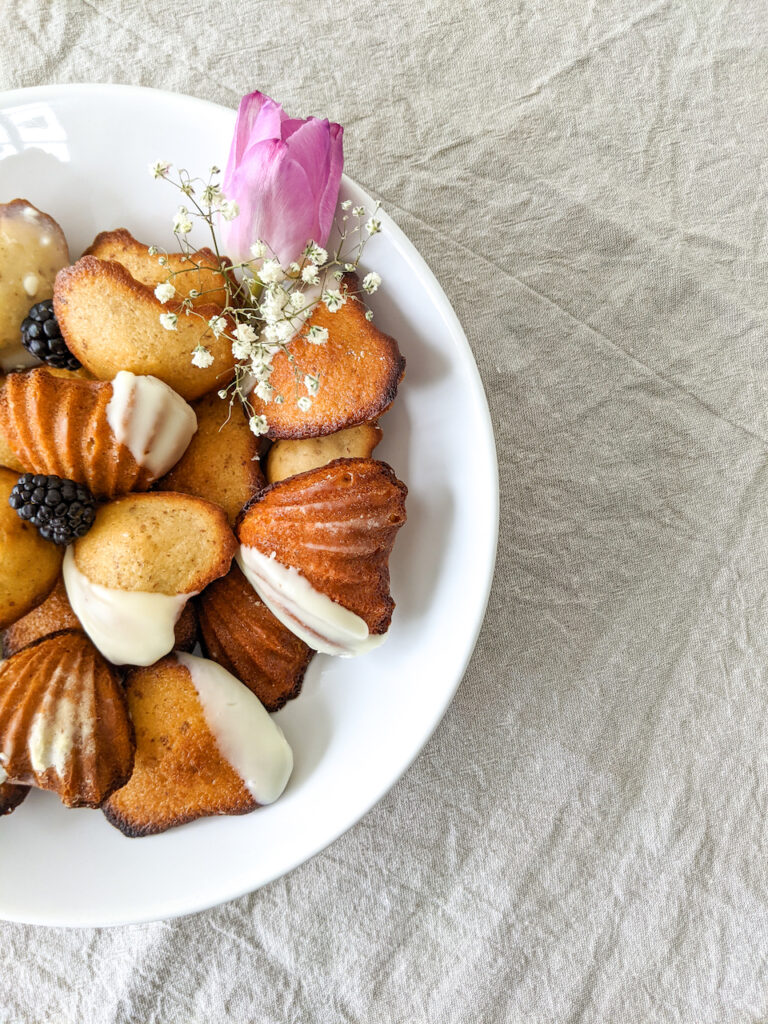 I so happy to meet you again today and drum roll please… for the food category of the blog 🙌🏼
So far, I've not written so much there (you can find here my previous recipe) but I've just treated myself to a very cute madeleine's mold (i love it so much, look at the cuteness 😍).
So here I'm ready to share with you my recipe of my lovely madeleines aka les madeleines d'amour flavored with coconut, almond and a white chocolate icing 💜 They are also without butter and eggs !
Besides, it gave me the opportunity to play with a lovely setting and my camera and practice food photography that has always appealed me !
So for this lovely madeleines, all you need is :
100 gr all-purpose flour,
75 gr sugar,
25 gr almond meal,
3 teaspoon of baking powder,
50 ml or 3 tablespoon coconut oil and
160 ml vegetal milk (here I've used oat milk).
And for the icing :
some white chocolate
and a bit of milk (stil oat for me)
It's an easy one, you'll see !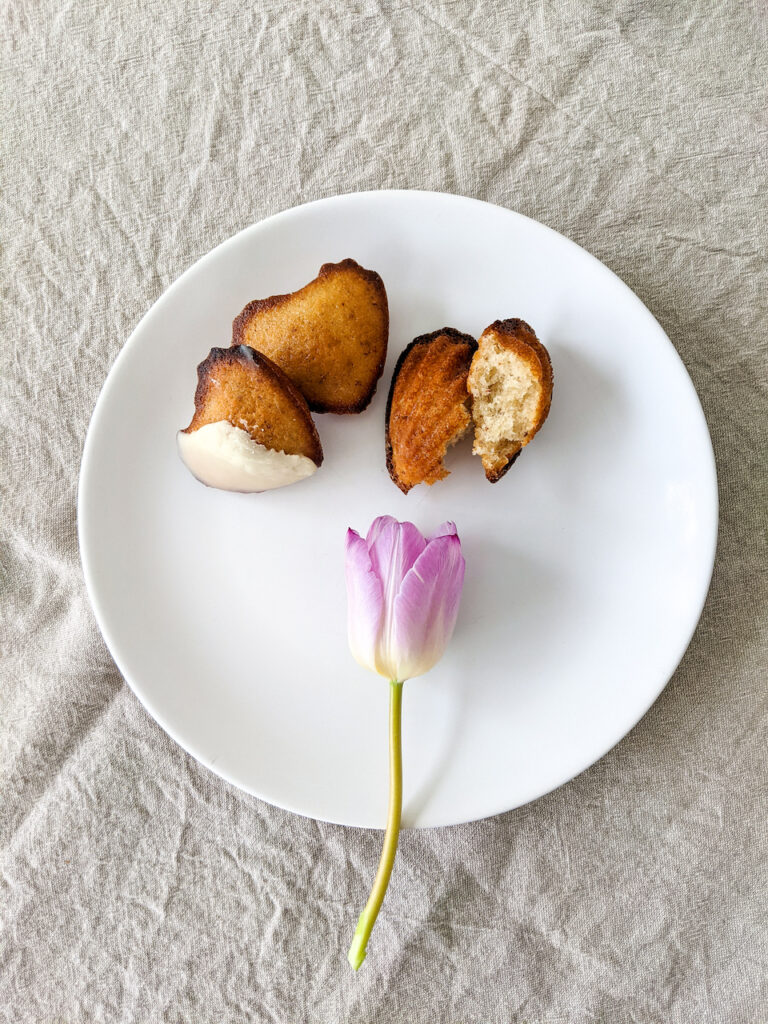 Melt in a saucepan or microwave the coconut oil and set aside to let it cool.
Meanwhile mix together all the dry ingredients flour, sugar, almond meal and baking powder. Then add the liquid ingredient coconut oil and milk. If you also want to add some vanilla, lemon or whatever flavor you may like it is the step to do so.
For me, I stayed on the coconut and almond flavors and it is perfect 😋
Once everything is stir together, put the dough in the fridge for 2 hours or even the night.
Once you're ready to bake your madeleines, use the coconut oil and some flour to coat the molds. After that you can fill each molds up to 3/4 with the dough.
Put it again in the fridge for 30 min (unless you choose the night option). It is the thermal shock between the cool dough and mold and the hot oven which gives a nice bump to the madeleine.
Time to bake at 392 degrees F for 6 min and then at 356 degrees F for another 5 minutes. As I like it crispy I add 2 minutes broil. Keep in mind that each oven bakes differently so cooking time can slightly varies.
Once its baked, let it cool before removing from the mold and start a new batch 😄
With this ingredients, I could make 21 madeleines 🙃
For the icing (the cherry on the cake, right 😉), melt in a bain-marie or microwave the white chocolate and some milk. Next let it cool and ice the madeleines.
Et voilà your delicious madeleines are ready and sorry not sorry if it turns out you'll become quite addicted to this lovely madeleines😅
Please share with me your madeleines or your own recipe or trick to make some delicious one over here or on instagram !
By then stay gourmand 😉